Number Of Teachers Key To Tackling Creating Child Labour Free Zones – London Stone Managing Director Steve Walley tells us about this important issue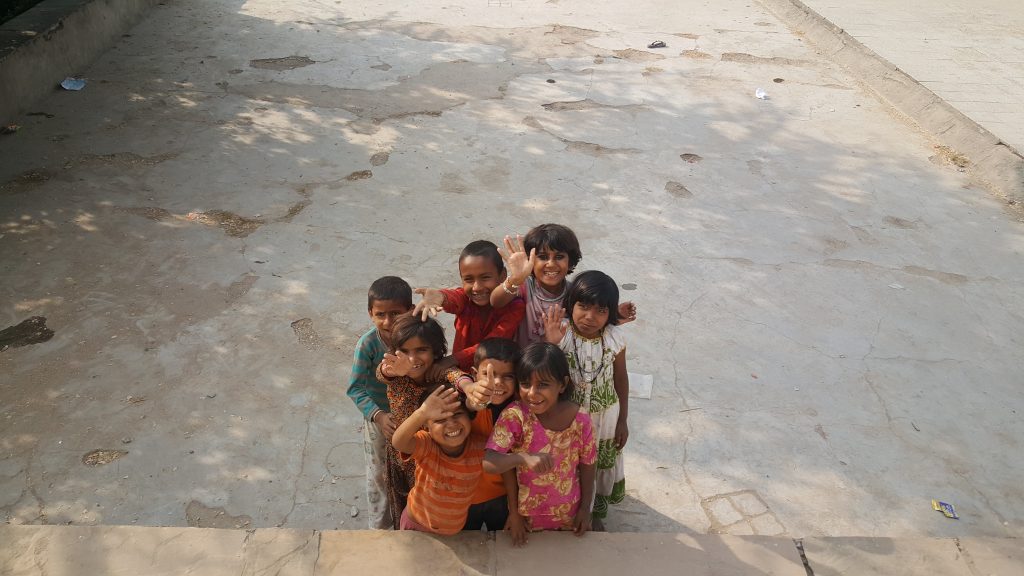 Child labour is a complex issue but it is only when you start working on trying to address the issue that you begin to understand just how complex it is. In the UK and Europe, we take for granted how good our education system is. We expect that when our children attend school there will be teachers present to teach them. The situation is very different in Budhpura, India. Before we go any further, a re-cap about the project we are working on to create child labour free zones in Budhpura.
Budhpura is a rural village in the state of Rajasthan, India, and one of the main sourcing regions for Indian Sandstone.  More specifically, Budhpura is widely known as being the key sourcing region for Sandstone cobbles (setts) and due to the nature of cobble production this makes the whole region particularly vulnerable to child labour.
An exciting project has been underway in Budhpura since 2015.  A group of NGO's and private businesses (The Stop Child Labour Campaign, ARAVALI, Manjari, ICN, Belgium Stone importer, Stoneasy and UK based landscape materials importer, London Stone) came together with a simple mission; to eradicate Child labour in Budhpura.
The project has made lots of progress.  In the last 3 years, hundreds of children have been taken out of child labour and enrolled into formal education.  There's a long road ahead though, and the whole project team are under no illusions that after three years of hard work we are still only scratching the surface as to the extent of this problem.
One of the biggest issues the project and the community have faced is a severe lack of quality teachers.  Manjari are the local NGO working on the ground in Budhpura and one of their key roles is to talk to the community and cajole and convince parents to the benefits of getting their children to attend school.  It doesn't matter how good a job Manjari do though, if when the children get to school there are no teachers present to teach them. The parents of the children will lose their incentive. It is a 'chicken and egg' scenario and given this climate it is easy to see why children then disappear between the cracks and slip into child labour.
The lack of quality teachers has been a huge barrier to progress for this project, so we are ecstatic to be able to share some amazing news with you.  After years of lobbying at different levels of local Indian Government we have finally secured a large influx of teachers to come and work at some of the local Budhpura schools. We've produced a simple table a comparison of teacher numbers from Spring to Autumn 2018.  The numbers have almost doubled, clearly demonstrating the fantastic progress we have made:
| | | | | |
| --- | --- | --- | --- | --- |
| | Name of School | No of Teachers as of 10.04.2018 | No of Teachers as of 10.10.2018 | % Increase |
| 1 | Budhpura Choraha | 04 | 08 | 100% |
| 2 | Bhilon ka Jhopda | 01 | 02 | 100% |
| 3 | Dhorela | 01 | 02 | 100% |
| 4 | Parana Gurjar | 01 | 02 | 100% |
| 5 | Parana Karado | 01 | 02 | 100% |
| 6 | Parana Ramdev | 01 | 02 | 100% |
| 7 | Budhpura Gaon | 04 | 07 | 75% |
| | Overall Total | 13 | 25 | 92% |
Doubling the number of teachers in local schools is a massive achievement for the project and represents a huge step forward for the reliability and quality of education available in Budhpura.  It must have been extremely demoralising for Manjari to see all their efforts of lobbying the community go to waste because the schools could not provide the number of teachers required. This development can only strengthen Manajaris hand when talking to the parents of local children. This whole project is about breaking down barriers to progress and by doubling the number of teachers in Budhpura we have removed a huge barrier to children attending school.  Stay posted for further progress updates in due course.